Every Friday at 5:42 a.m., 7:42 a.m. and 5:18 p.m., Nate Saverino highlights players, coaches and more in the Two-Minute Drill. Keep up with the Redhawks on KRCU.Local support for the Two-Minute Drill is provided by Saint Francis Healthcare System.
Two-Minute Drill: Hall and Wilkerson Earn All-American Honors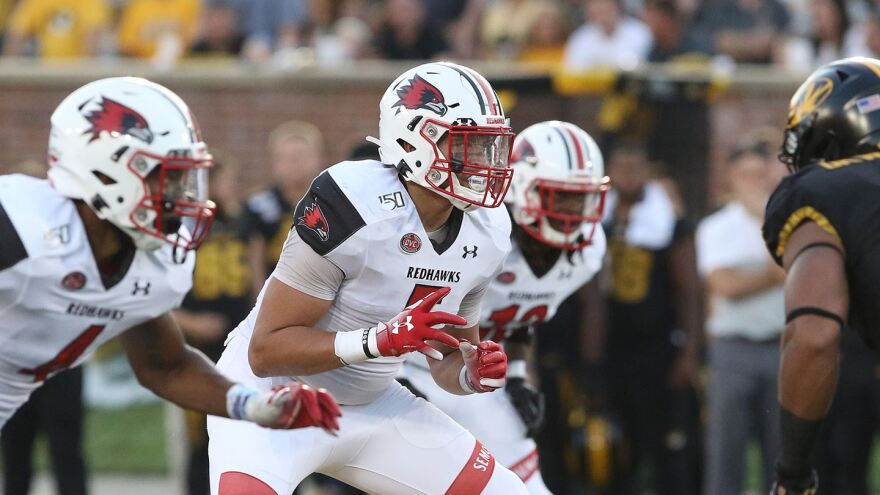 Southeast Missouri seniors Zach Hall and Kristian Wilkerson were named to the HERO Sports All-America Teams.
Hall earned first-team honors and Wilkerson was a second-team pick. Hall is a first-team selection for the second-straight year, while Wilkerson lands a spot on the HERO Sports All-America Team for the first time. Hall also earned First Team All-American honors from the Associated Press.

A three-year starting inside linebacker, Hall garnered First-Team All-Ohio Valley Conference accolades. He finished fourth in the overall voting for the Buck Buchanan Award after winning the National Defensive Player of the Year honor in 2018. Hall ranked 24th in the FCS with 123 tackles, going over 100 for the second year in a row. He added 57 solo stops, 9.5 tackles for loss, 3.5 sacks, two interceptions and three forced fumbles. Hall returned one of his interceptions 61 yards for a touchdown. He notched double-digit tackles in seven of his 13 starts and ranked second in the OVC in total tackles, third in tackles per game (8.4), 16th in sacks and 12th in tackles for loss.
Wilkerson finished as SEMO's top receiver for the fourth consecutive year. He earned First-Team All-OVC honors after catching 71 passes for 1,350 yards and 10 touchdowns in 13 starts. Wilkerson averaged 103.8 receiving yards per game and became the first Redhawks receiver to get 1,000 yards in a season in 17 years. His 1,350 yards rank second all-time in a single-season at SEMO. Wilkerson had over 100 receiving yards in seven games with a season-high 254 yards vs. Eastern Kentucky (Nov. 9). He broke SEMO's all-time career records in receiving yards (3,540), receiving touchdowns (33) and pass receptions (219). Wilkerson also ranked second in OVC history in receiving touchdowns and fourth in receiving yards.
Follow Redhawk Athletics on Twitter at @GoSoutheast.